My primary visual language revolves around the narrative of time and space with a particular focus on my experience of living in London in this fragile time of the pandemic. I believe the pandemic serves as a magnifying glass that exposes human conditions such as loneliness, anxiety, longing and other feelings of seperation, both on a personal and systematic level. Also, I believe it is fair to say that the pandemic has made us all slow down and look at the more intimate and existential aspects of life like our relationship to other people but also to nature.
I use photos and mark making from urban scapes such as parks, the Thames and other places of refuge as a starting point for my images, before processing them through digital and physical manipulation. This process leaves openness to chance, accident and coincidence, hence producing ambiguous layers for the viewer to interpret and engage in.
On the one hand, I believe that the uncertainty of the pandemic can cause a lot of anxiety. However, on the other hand, I think there is a lot to be learnt from this pandemic. We live in a society where speed, business and growth are dominating symbols of success, which can also cause feelings of disconnect. I want to make art that invites the viewers to slow down, look, feel and be present in the moment. Therefore, an important part of my research is the buddhist and mystical understanding of terms like emptiness, impermanence and non-dualism.
COPELAND GALLERY PROPOSAL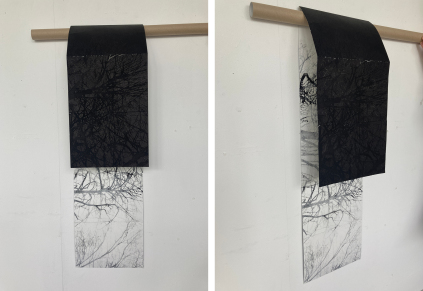 My proposal for Copeland Gallery is a book-sculpture made from my first big laser print. After a few month of experimentation I returned to this first laser etched work and I am pleased it finds a way to be presented in the context of emptiness and impermanence. The laser etched image is rubbed with etching oil diluted with white spirit, and therefore the back of the paper is empty, except for the stains from the front page, which creates an illusion of a shadows or an echo.
-- -- --
I am working to find an invisible solution to mount the image to the wall, so the cardboard roll is not a part of the final presentation.
Title: Shadow Size: 30 x 100 cm.
— — —

What does the narrative of the space of emptiness, of uncertainty and silence look like?

— — —
My aim for unit 3 is to work with my photo archive from unit 1 and 2 to create images that visualize emptiness and the unknown. I want to make art that invites the viewer slow down and look, feel and be present in the moment.
In addition, I want to work with the format of the book, as a way to present my work, but not necessarily a traditional book. I am currently working on a folded format, as shown above, and I will keep experimenting with that format but different papers and techniques. such as digital print, intaglio and laser etching.
Furthermore, I have an ongoing collaboration with Marta and Gemma where our intention is to explore different ways to make imprints directly on the etching plates and combine them with photos, my own or from archives such as https://archive.thameswater.co.uk.

— — —

The off-set of my proposal question is Gay Watsons A Philosophy of space, where she describes the philosophy of emptiness in a historical context from Buddhism, Taoism and religious mysticism to the contemporary world of philosophy, science and art practice.
I try to make the best of my time in the workshops, but have to acknowledge my limitations. Therefore I have decided to focus on etching Mondays and Tuesdays, which gives me time to digital print and laser cutting the rest of the week. And that is the techniques I work with at the moment.

For further information on related texts and artists, please se CONTEXT.